PDF redaction allows erasing permanently any text, graphic and image from a PDF file. Once the data is removed, it is impossible to see what was behind. Be careful, some online tools and techniques hide the text and images, but you still have access to the content.
With the AvePDF Redact Tool, you secure the personal or sensitive data of your electronic documents. Redaction marks (also called redaction annotations) are burned into the PDF so that no one can retrieve the information.
How do you know if your document is properly redacted? Simply copy-paste the text in a simple text editor such as notepad. Can you read all the information? If yes, it means that the document is not redacted; the information has only been hidden. 
How PDF redaction helps to be compliant with privacy laws?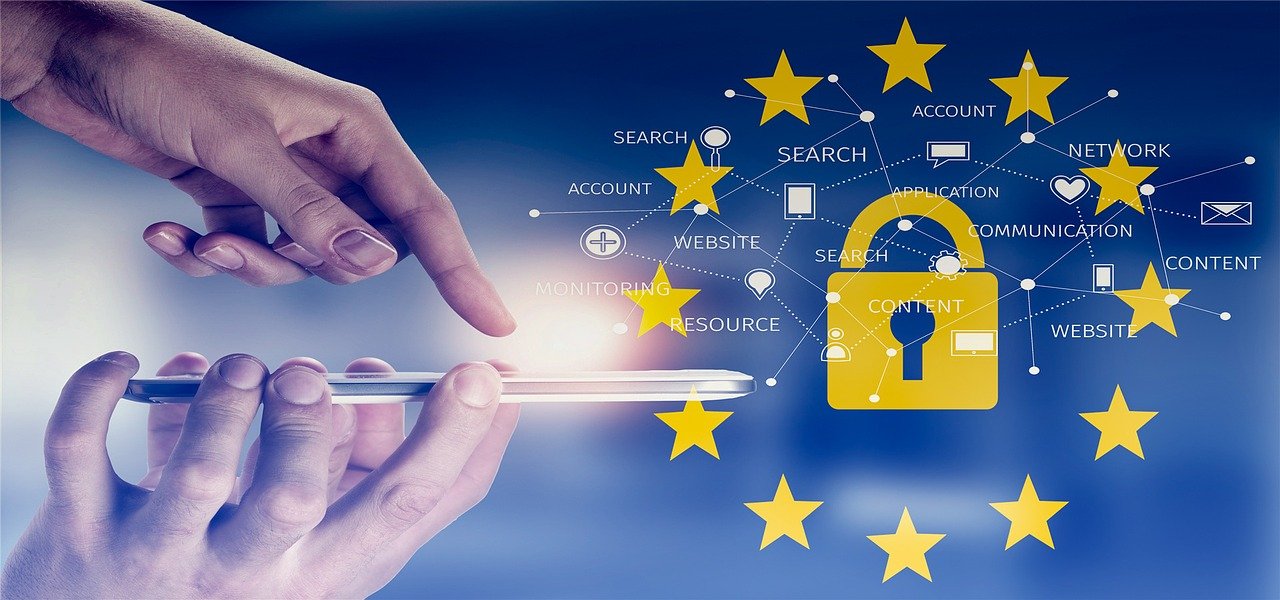 Redaction forever deletes information on a PDF document. A feature with many benefits for companies to protect customers and employees' data and privacy and for anybody. 
Today, more and more regulations exist to protect individuals. 
The major data protection laws
In Europe – The GDPR (General Data Protection Regulation). It came into effect in 2018 and impacts all companies operating personal data processing on European residents. It aims to standardize data protection regulations at the European level. It also strengthens the rights of individuals (e.g., the right to access or delete personal data).
In the USA, the CCPA (California Consumer Privacy Act) came into effect in 2020, so two years after the GDPR (in Europe, we can also be in advance sometimes!). It is similar to the European regulation, as it is a data privacy law that regulates how companies worldwide can handle the personal information of California residents. However, it is the first law of this kind in the United States.
In Brazil – the LGPD (General Personal Data Protection Law) was also released in 2020.
It aims to regulate the processing of personal data, control and hold accountable the actors that process personal data, and protect individuals' privacy. 
According to privacy regulations like the GDPR:
Personal data is any information that relates to an identified or identifiable living individual. Different pieces of information, which collected together can lead to the identification of a particular person, also constitute personal data. 
While businesses cannot do anything they want with your data, keep in mind that companies need to keep information about the transactions with their customers (it's the law, too!). So yes, you have the right to ask that your personal data is not shared with third parties or not to be contacted again, but if you have been a client, you cannot demand to remove all your info from the company. Learn more about what is allowed to do with your personal data under the GDPR.  
5 Tips to protect your personal data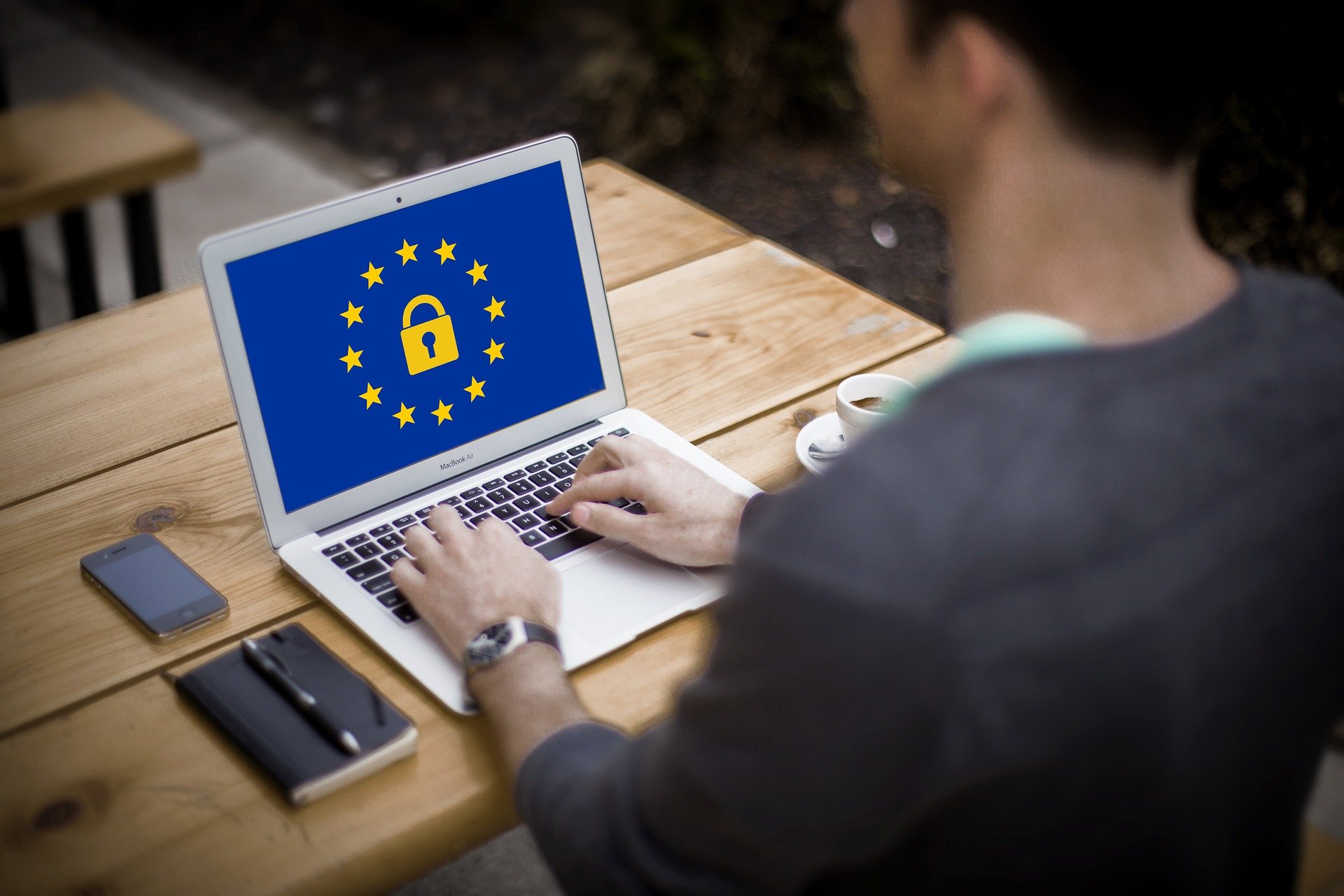 When we are using the Internet, we often leave our personal data everywhere. Here are some general tips for more secure browsing. 
Switch your internet browser
If you use Google Chrome, you may want to consider other options. It is indeed the most popular browser, but also the one that collects a lot of information. 
Other browsers like Mozilla Firefox, a non-profit company, won't sell or give away your data – if you don't forget to tell them not to (check your security parameters!). Ecosia is also a good alternative as you can disable the data collection on the browser's setting. You can also contribute to a more sustainable future as it donates to reforestation organizations.


 Cut Internet and localization when you don't use it

This tip is true for all devices: computers, smartphones, iPads… The more you're online, the more companies will track your position and collect your data. So, disable your wifi, internet data, and geolocalisation when you don't need them. Beware of public wifi networks as well! There are much less secure than private networks as many people can access them. 

(Almost) nothing is free
There's a saying you probably know "If it's free, you are the product." It is, unfortunately, most of the time, true. Usually, when it's free, the company asks you (or not) to collect your information and sells it to third parties. Think about Waze. When you drive with this app, your localization is on, and it will be used to track your position and display custom ads. More concerning, think about Facebook and the Cambridge Analytica scandal! 
But it is not always the case! AvePDF is not selling your data, and it is entirely free to use. Our goal is to demonstrate our latest technologies to manage PDF files and documents online, technologies that people will find in our tools made for developers (which are GdPicture.NET, DocuVieware, and PassportPDF Rest APIs).


Read before you click

How often do you read conditions before accepting them? Not every time (I don't either). But, if we really want to know how our data will be used, it starts by reading – and understanding! – the terms and conditions.  The GDPR, for example, asks all businesses online to make their data collection process available to the user in a clear language. But, unfortunately, not all countries have mandatory data privacy regulations…

Use strong passwords

Studies show that the most used passwords are ineffective (think about "1234" or "password"). Protect your devices and accounts with a strong password. A good password doesn't contain personal (again) information that can be easily guessed (birth date, name, etc.). Instead, use a combination of alphabetical and numeric characters, with lower and uppercase and symbols.
If you want to secure your electronic documents with passwords and permissions, check our Protect PDF tool.
Now let's get back to our tutorial and see how you can protect personal and sensitive data for you, your clients or your employees with our free online tool Redact PDF.
AvePDF Redact PDF tutorial
To start, visit our homepage or click here to land directly on the Redact PDF tool.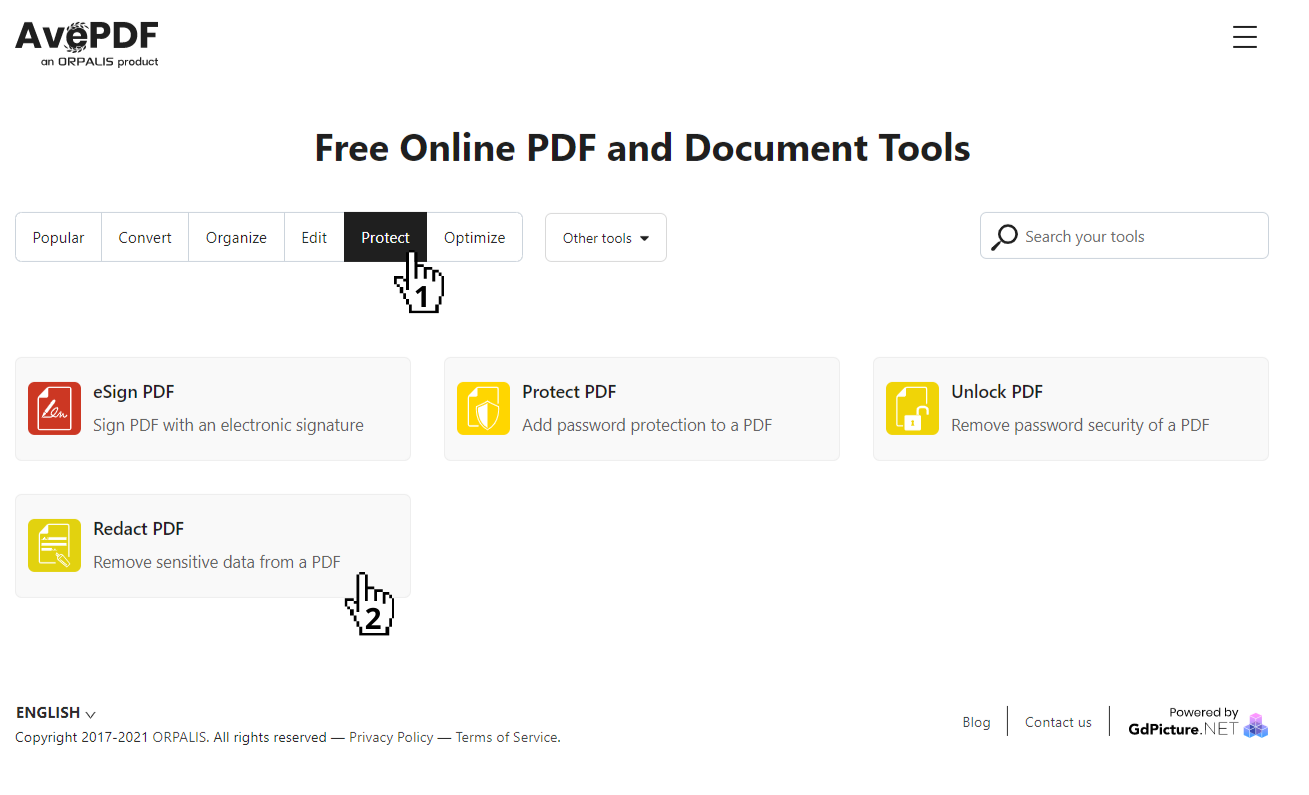 Drag and drop your file or upload it from your device or your cloud storage service.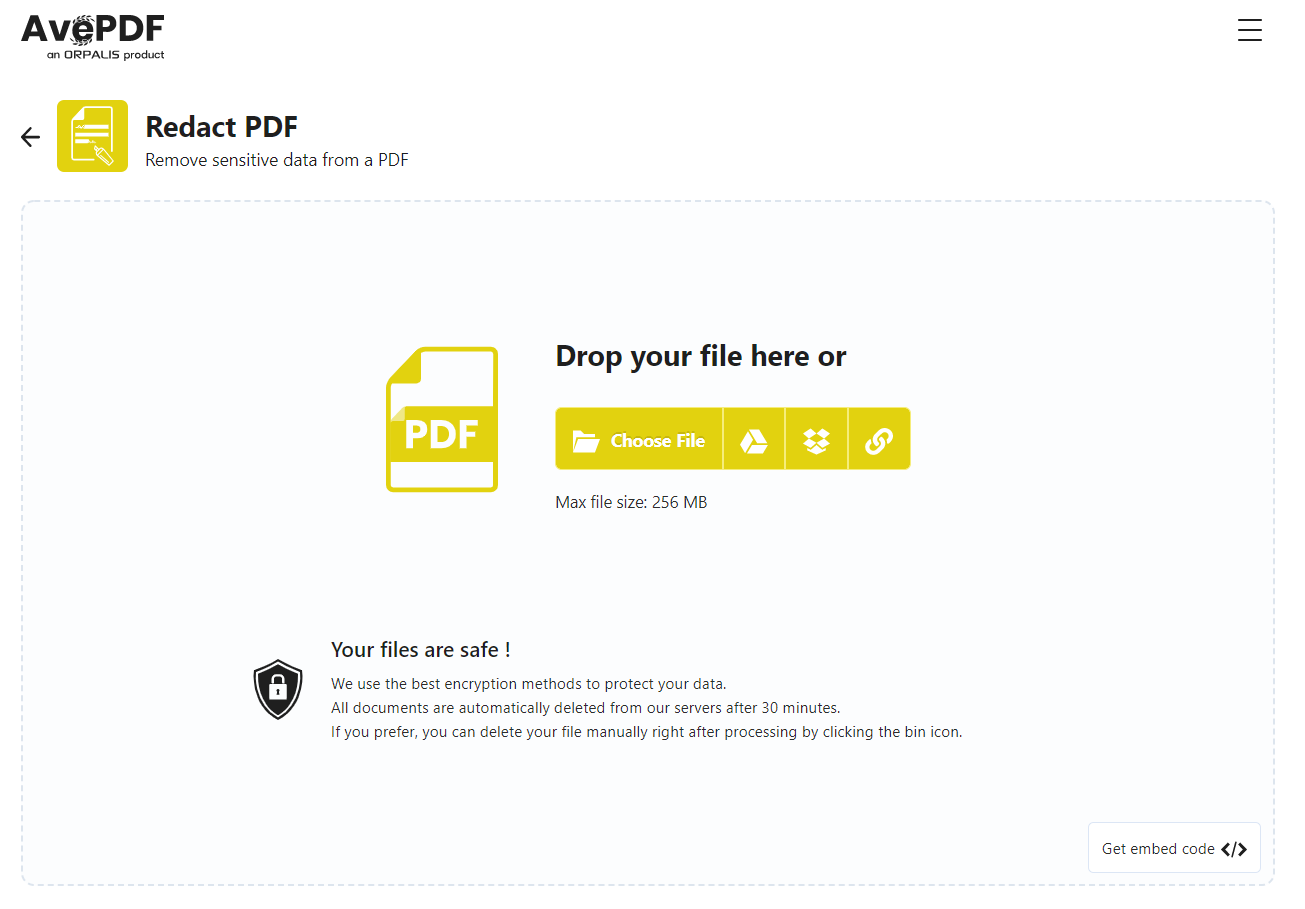 3. Add redaction marks and more
To add redaction marks, click the "Add redaction marks" button and draw an area on your document with the mouse.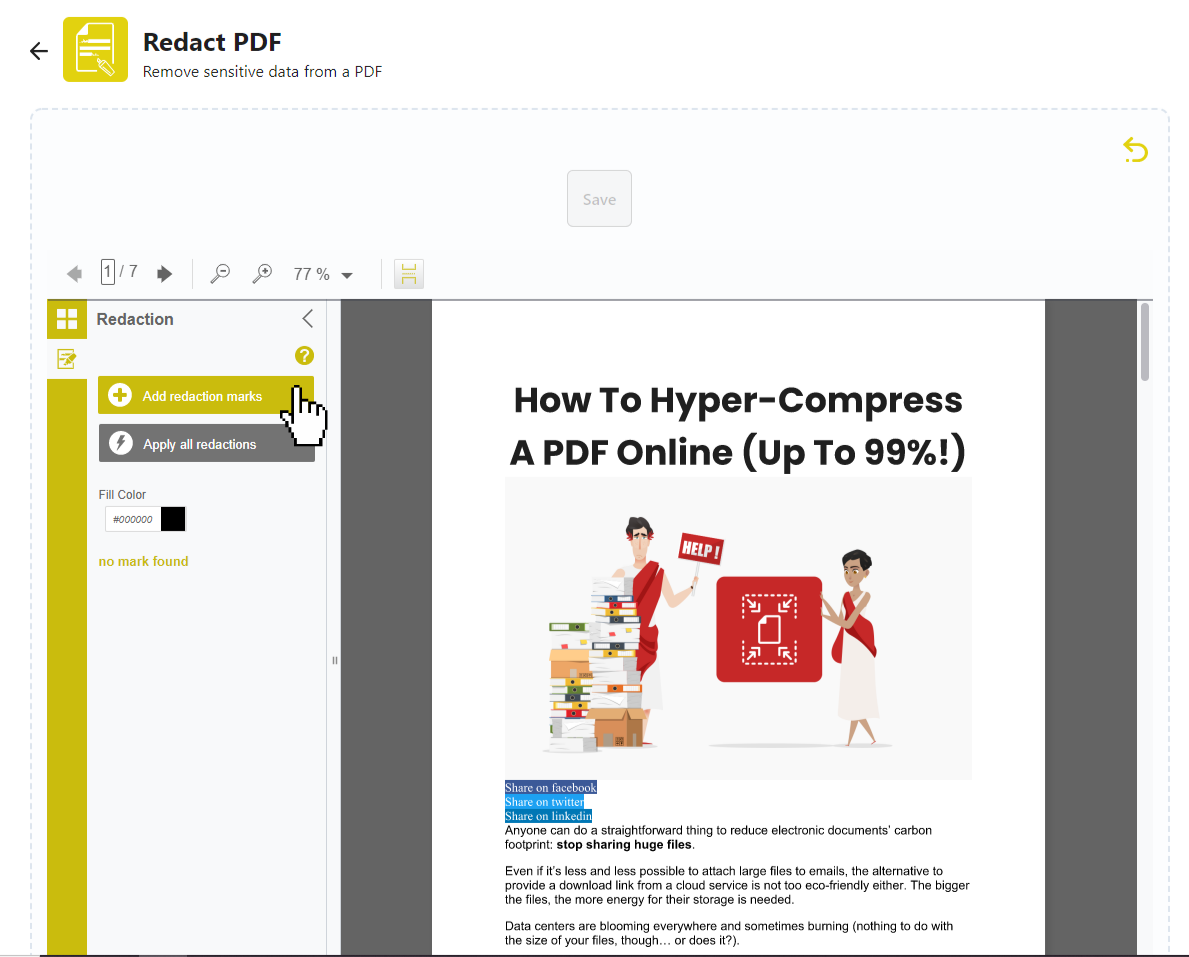 To edit, click on the redaction mark you want to modify on the left side. Then select the "Edit" icon in the menu.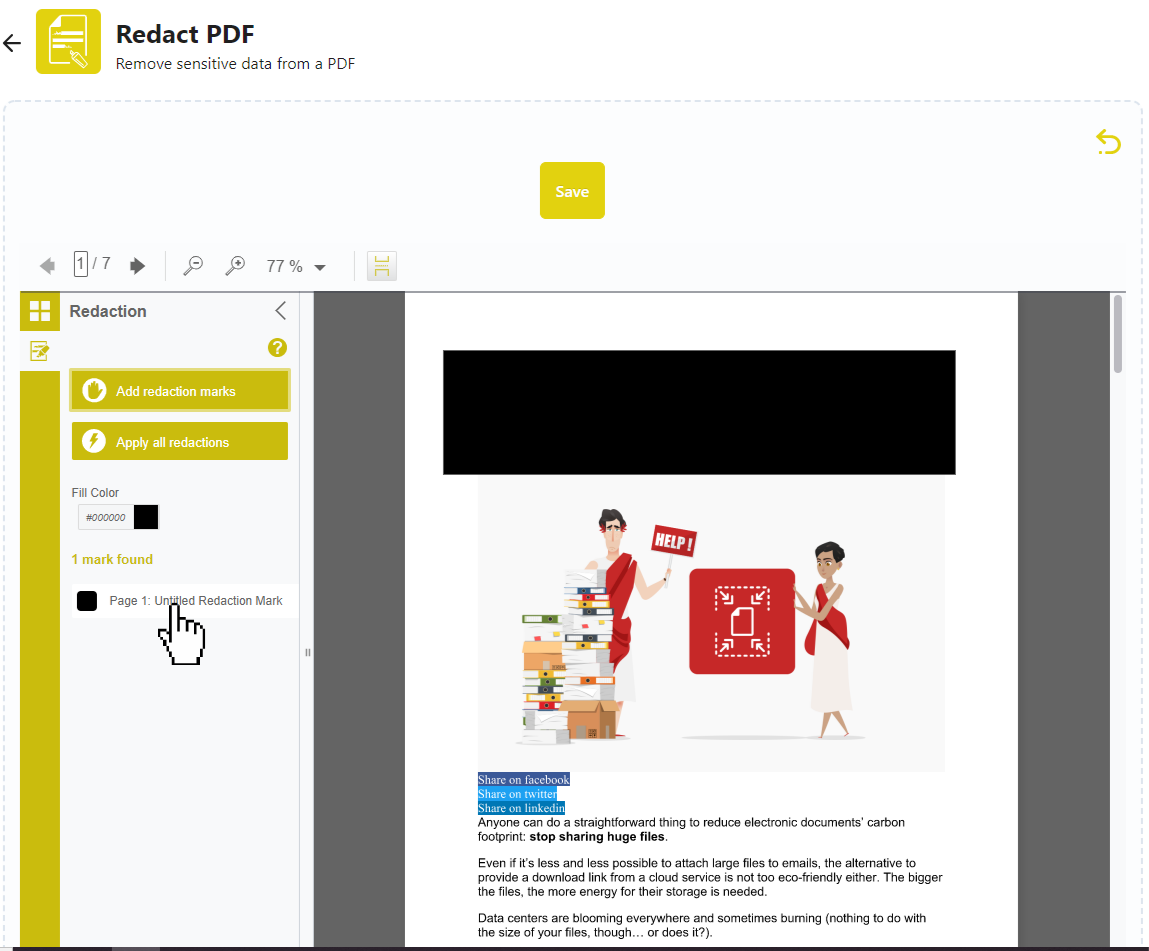 On the window "Redaction marks properties," you can change the title and the color.
You can also explore some other functions by selecting text zones with your mouse and then right-click. You can remove the selection, add redaction marks, underline, strikeout, or highlight. 
To apply the redaction marks and save the document, click the "Apply all redactions" button.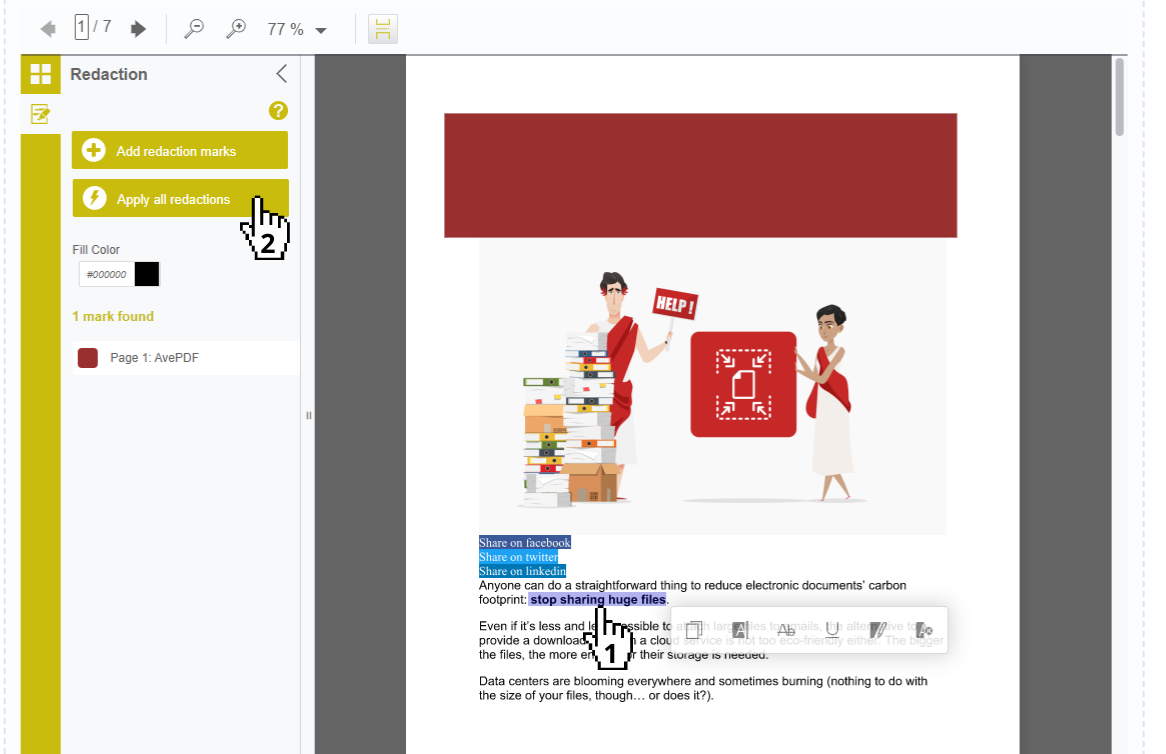 When you are done editing, you can click the Save button. It will take a couple of seconds to apply the changes.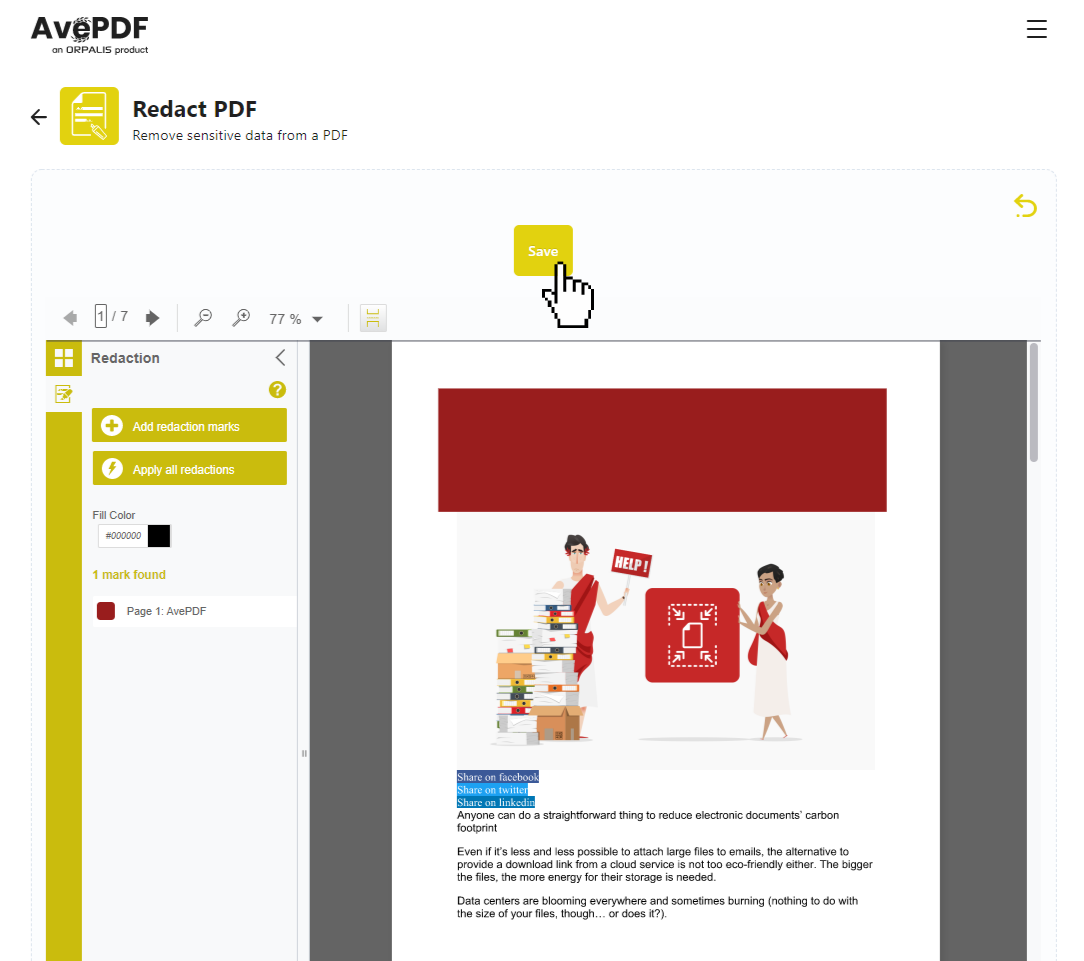 4. Download your redacted file
You can download your redacted to your computer or save it directly to your favorite cloud storage service.
Be careful! Redacted content cannot be undone. This means that once the redaction marks are saved and burned into your document, you cannot remove them nor retrieve the content behind the marks.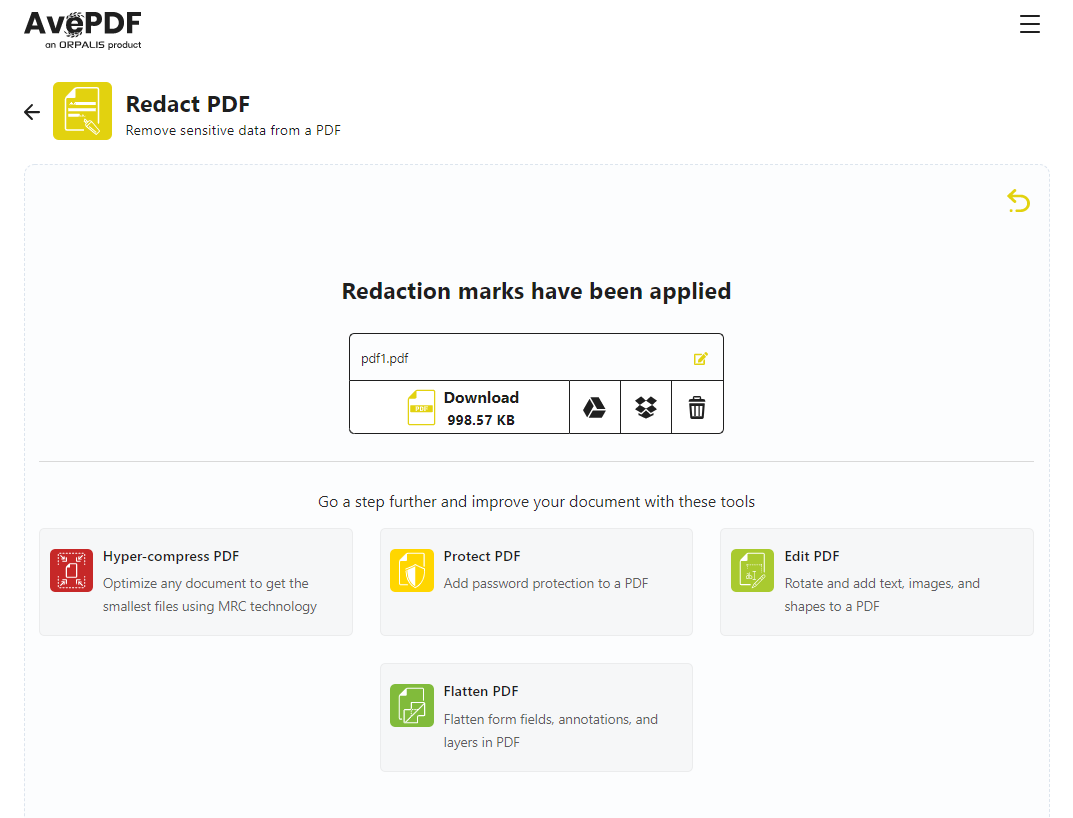 All documents processed with AvePDF are automatically deleted from our servers after 30 minutes.
If you prefer, you can delete the file manually right after processing by clicking the bin icon.
You can even go a step further and hyper-compress your document if you need it lighter and optimized. You will benefit from the latest technology to hyper-compress your file and reduce its size by up to 99%!
By compressing your files, you contribute to a more sustainable future.

If you want to learn other simple ways to protect your documents, read our article: Three free tools to secure your PDF files.