As with paper files, individuals and organizations need to archive their electronic documents. However, not all file formats are suitable for long-term archiving. The PDF subset PDF/A is specifically designed for this purpose. Learn more about this format and how to convert your documents to PDF/A.
PDF/A is the PDF subset for the long-term preservation of electronic documents. It is an ISO standard since 2005 (PDF/A-1 ISO 19005-1: 2005). Designed for long-term archiving, PDF/A files only contain what is necessary to ensure reliable reproduction of the documents.
Why not using regular PDF files?
As you know, the PDF format's main goal is to keep its layout whatever the device. It should be enough for archiving since, in theory, today's PDF file will look the same in the future.
And we've been doing this for years!
However, it is not that simple.
The PDF specification allows actions that can hinder future viewing, such as:
encryption of the document with a password,
dynamic content like launch, sound, movie, and others,
fonts may not be embedded (if you don't embed a font, the viewer will substitute it if it is not available on the computer, and the result is often surprising…),
different ways to render color,
and more.
On the contrary to PDF, PDF/A requires that all the information needed to provide a precise rendering of the document is contained into the PDF/A file, including fonts, color profiles, images, just to name a few.
This is also why PDF/A forbids dynamic content to ensure that the user sees the same thing today and tomorrow.
Basically, every company or organization that needs to archive documents will benefit from converting or generating PDF/A files, especially the following domains:
The different PDF/A versions
When diving into the world of PDF/A, one is often a little discouraged by the many different versions available. But don't worry! Here is a (short) recap of the main features of each version/level. For more detailed technical information, have a look at the PDF Association website. 
PDF/A-1 ISO 19005-1: 2005
Based on PDF 1.4
PDF/A-1 has two levels: PDF/A-1a and PDF/A-1b.
PDF/A-1a (with a for "accessible") aims to increase the accessibility of the file thanks to a logical document structure and necessary tags and information to help users with assistive technologies. 
PDF/A-1b (with b for "basic") only includes the necessary features needed for reliable reproduction of the document's visual appearance. 
PDF/A-2 ISO 19005-2: 2011
Based on PDF 1.7
We find three conformance levels in this version: PDF/A-2a, PDF/A-2b, and PDF/A-2u.
Based on PDF 1.7, PDF/A-2 includes all the new features of the PDF specification, such as transparency and optional content (layers). 
An additional major feature is an option of embedding PDF/A files to facilitate archiving of sets of documents with a single file.
The new conformance level PDF/A-2u (with u for "Unicode") requires all text in the document to have Unicode mapping.
PDF/A-3 ISO 19005-3: 2012
Based on PDF 1.7
Three conformance levels are available: PDF/A-3a, PDF/A-3b, and PDF/A-3u.
PDF/A-3 allows embedding arbitrary file formats (such as XML, CSV, CAD, word-processing documents, spreadsheet documents, and others) into PDF/A documents.
PDF/A-4 ISO 19005-4: 2020
Based on PDF 2.0
The conformance levels a, b, and u are dropped and replaced by PDF/A-4f, allowing files in any other format to be embedded.
Also, a new level, PDF/A-4e, replaces the PDF/E-1 ISO 24517-1 standard based on PDF 1.6. PDF/A-4e includes RichMedia annotations for 3D content in U3D or PRC format and embedded files.
PDF/A support with AvePDF
Our widget allows you to convert your PDF documents to:
PDF/A-1a
PDF/A-1b
PDF/A-2a
PDF/A-2b
PDF/A-2u
PDF/A-3a
PDF/A-3b
PDF/A-3u
PDF/A4 levels are coming soon

For those unfamiliar with the format, which version should you pick to convert your files? 

We recommend converting to PDF/A-2b because it supports more features than PDF/A-1 and ensures that your documents conform to the specification without imposing extra processing that requires modifying the document manually. 
Convert your files to PDF/A: tutorial
Let's now move to our tutorial! 
You can either watch the video or read the transcript below. 
To start, visit our homepage or click here to land directly on the Convert to PDF/A widget.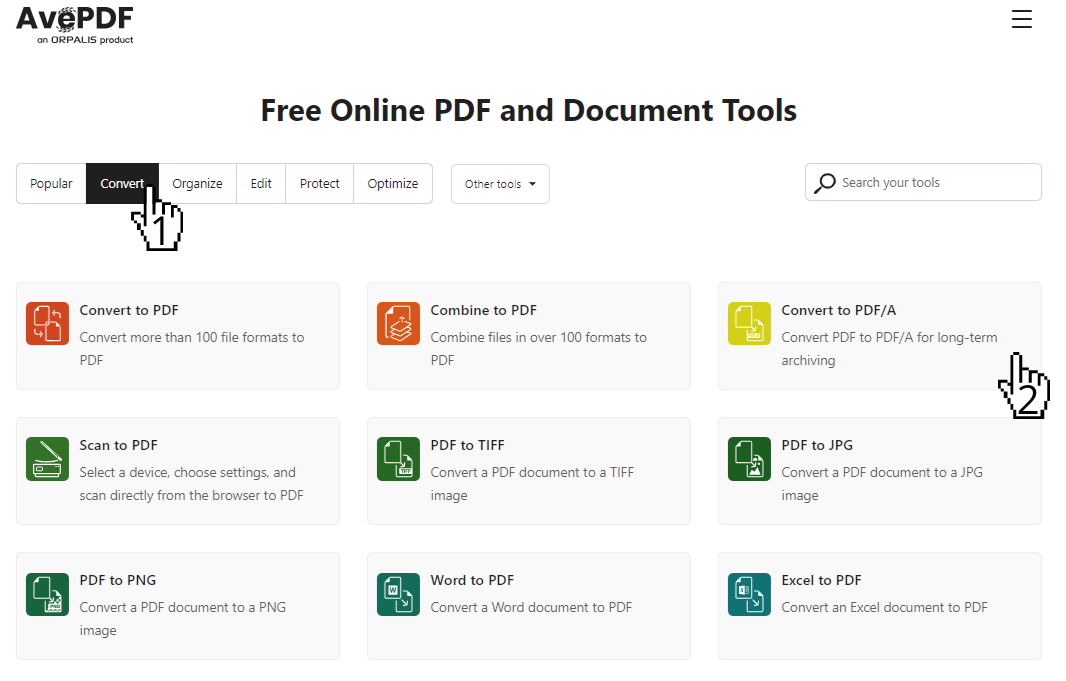 You can also do it directly from this page by using the widget embedded below!
If you want to learn how to implement our widgets from more than 50 tools available on your website, check this article!
Drag and drop your file or upload it from your device or your cloud storage service.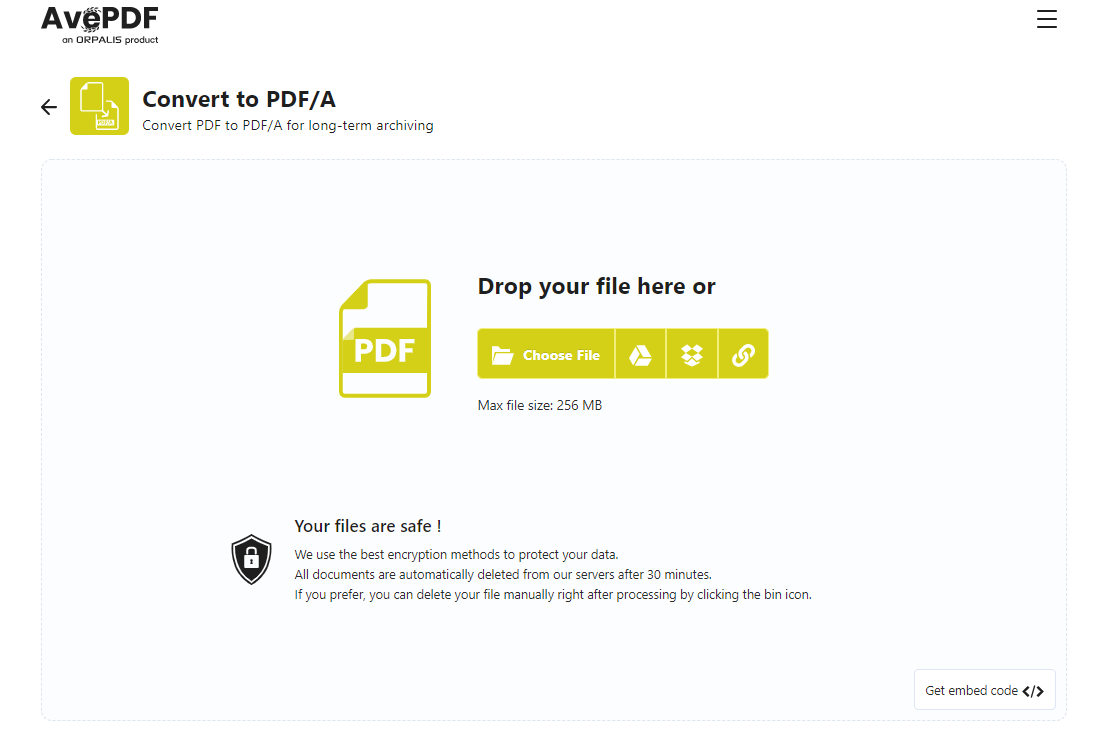 3. Choose the conformance level
Choose the conformance level of your choice in the dropdown menu.
Then click the Convert button. If you don't know which conformance level to choose, by default, the selection is set on PDF/A-2b, as it is the version used by the majority of users.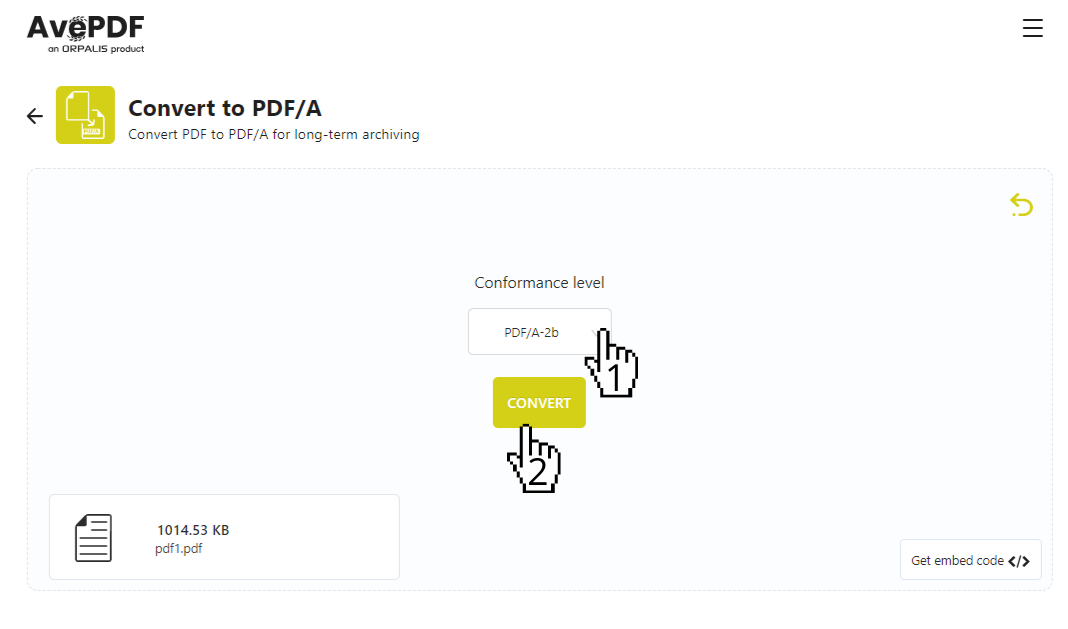 4. Download your converted file
You can download your PDF/A file to your computer or save it directly to your favorite cloud storage service.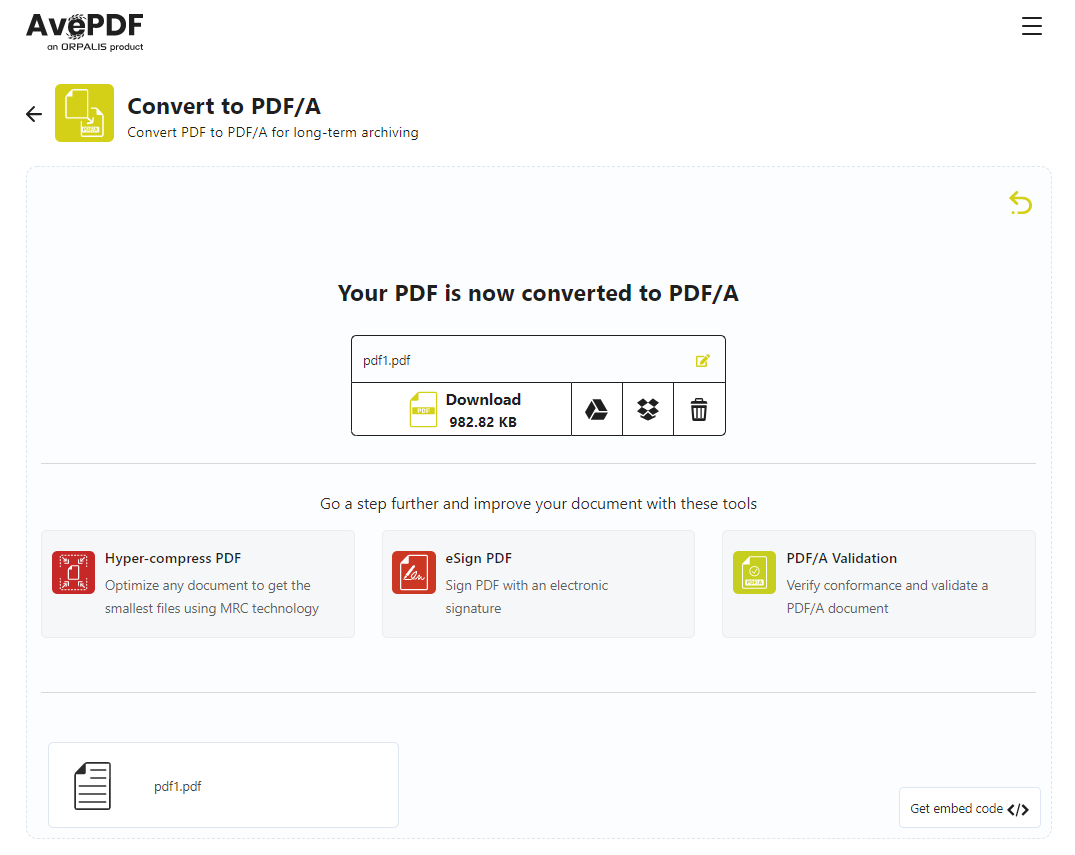 All documents processed with AvePDF are automatically deleted from our servers after 30 minutes.
If you prefer, you can delete the file manually right after processing by clicking the bin icon.
You can even go a step further and improve your document with some of our other tools such as Hyper-compress PDF , eSign PDF, and PDF/A Validation.
Tip: You don't even need to upload your converted PDF/A file again if you choose one of our recommended tools!