The PDF (Portable Document Format) is designed to be read and shared easily while keeping its layout on all devices at all times. However, you may sometimes need to modify the dimension of your PDF document. Unfortunately, adjusting the page size of your file isn't always an option in many free tools, software, or virtual printer. With AvePDF, you can resize a PDF to a standard or custom size.
With AvePDF, you will be able to change the height and width of your document to a standard or custom paper size, in millimeters, inches, or according to a percentage. You can also choose whether or not to keep the aspect ratio of the document.
Different paper sizes for different purposes
AvePDF lets you choose any size from A0 to A5 in the A-series:
A0: 841×1189 mm / 33.11×46.81 in
A1: 594×841 mm / 23.39×33.11 in
A2: 420×594 mm / 16.54×23.39 in
A3: 297×420 mm / 11.69×16.54 in 
A4: 210×297 mm / 8.27×11.69 in 
A5: 148×210 mm / 5.83×8.27 in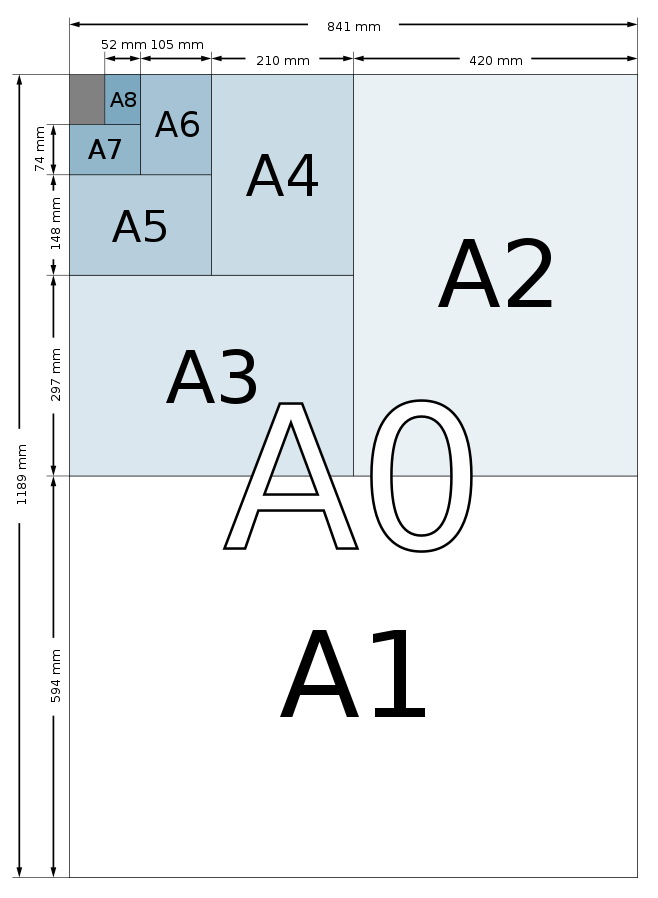 The ISO 216 defines the "A," "B," and "C" series.  A4 is the most used in the world. It is originally based on the German "DIN 476" standard published in 1922. 
The ISO 216 series sizes are designed so that the proportions of the sheet are retained when folded or cut in half lengthwise, allowing lossless trimming, folding to make books… Therefore, the length to width ratio must be equal to the square root of two, √2, or approximately 1.41423.
In 2013, a new ISO "217:2013" is created.
The international standard ISO 217 defines the raw formats for the production of documents in an A-series format.
The RA series ("raw A") is calculated with a 5% larger surface area, the SRA series ("supplementary raw A") with a 15% larger surface area, with dimensions rounded to the centimeter; these formats retain the 1:√2 ratio.
These formats are most often available in large rolls, including newsprint or coated paper for newspaper and magazine presses and paper for book printing; such rolls can weigh several tons each.
The physician and politician Lazare Carnot originally invented what became the A4 format during the French Revolution in 1798. He wanted to create a paper size both easy to use and tax. The size of this paper resulted from a sheet of one square meter folded in four. The metric system had just been established at that time. 
With AvePDF, you can select the following sizes:
Letter: 216×279 mm / 8.5×11 in 
Legal: 216×356 mm / 8.5×14 in 
Tabloid: 432×279 mm / 17×11 in 
Executive: 184×267 mm / 7.25×10.5 in 
The North American (or US) sizes are also standardized, following ANSI/ASME Y14.1. 
On the contrary to the A4 series, the origin of the Letter size is unknown. Furthermore, the North American paper sizes are based on what seems arbitrary aspect ratios.
Letter is the standard for business and academic documents. The Legal format is used to make legal pads. The Tabloid format (also called Ledger) is commonly used to make smaller newspapers (tabloid newspapers pages are half the size of the average newspaper).
Several Executive sizes exist:
Executive 1: 7 x 10.5 inches
Executive 2: 7.25 x 10.5 inches (AvePDF uses this one)
Executive 3: 7.5 x 10.5 inches
The adoption of paper sizes by country
Dark Blue: ISO A4 exclusively used
Light Blue: ISO A4 primarily used
Red: US-Letter exclusively used
Pink: US-Letter mainly used
As you can see on the map, Serie A is the most used except in North America and some parts of Central and South America. In Europe, the A paper size is the standard since the 20th. The A4 standard is also very much used in British countries as UK, New Zealand, and Australia.
Other standards across the world also exist, such as the Swedish standard SIS 01 47 11, the Japanese standard JIS P 0138, the Chinese standard GB/T 148–1997, and much more.
Now let's see how to resize any PDF file to these standards or custom sizes.  
How to use the AvePDF Resize PDF widget?
To start, visit our homepage and select the "Edit" category. You can click here to land directly on the Resize PDF tool.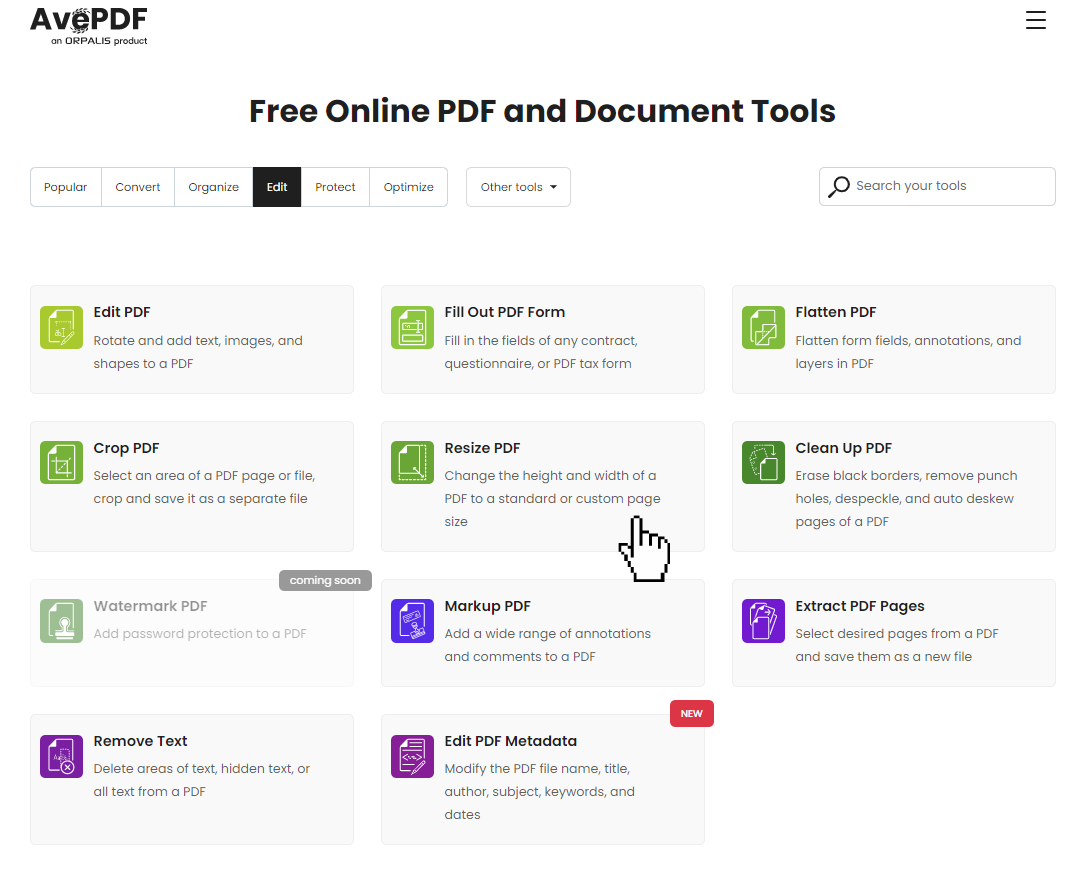 You can also use our tool directly from this page by using the below widget.
If you want to learn how to embed any of our widgets into your website, check this article!
Drag and drop your file or upload it from your device or your cloud storage service.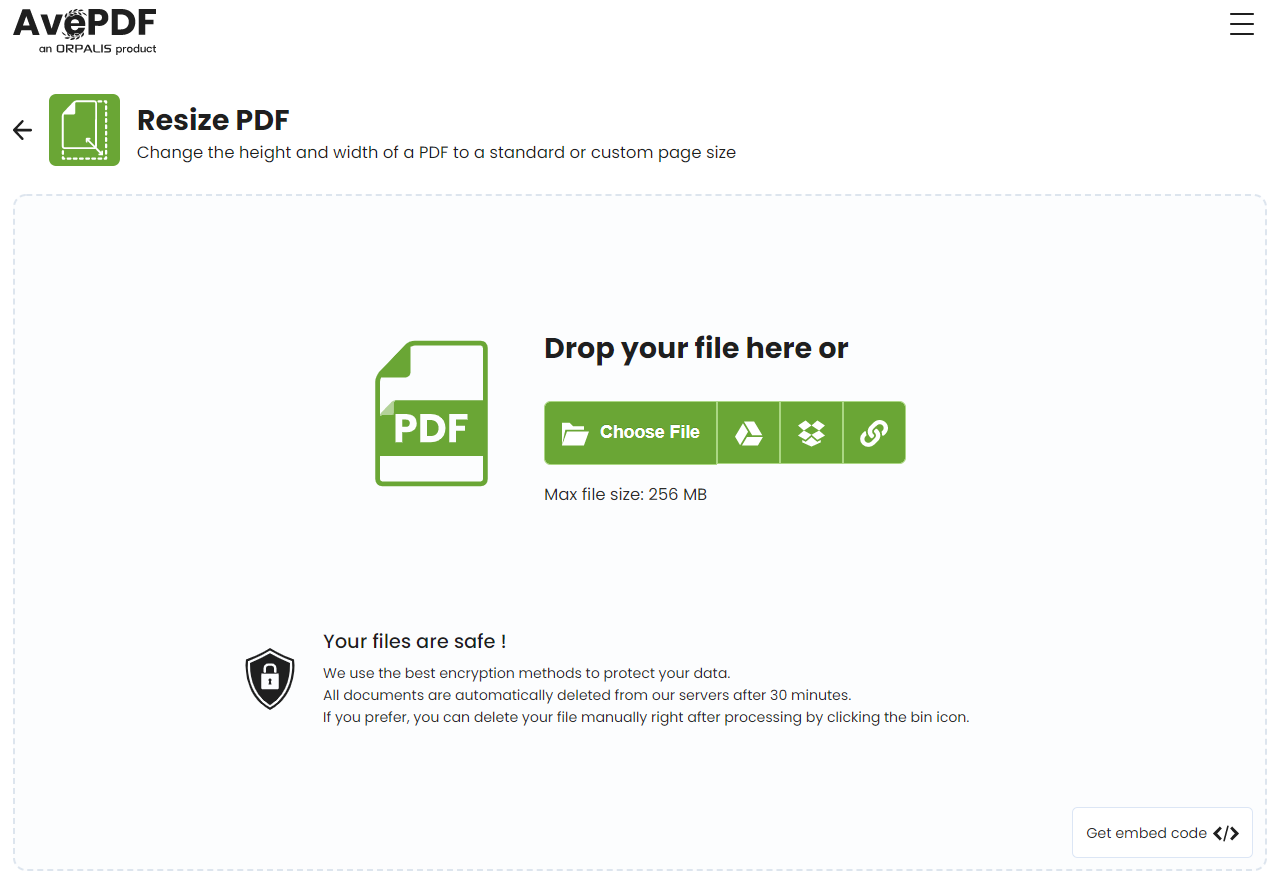 3. Choose the document size
Select the document size in the drop-down menu. Then, you can choose from the different file formats from A0 to A5, Letter, Legal, Tabloid, and Executive.
You can also choose the Custom option if you need some specific height and width. You can then just the size in millimeters, inches, or according to a specific percentage.
Don't forget to click "Keep aspect ratio" if you want to preserve the proportions of your document.
Then click the Resize button.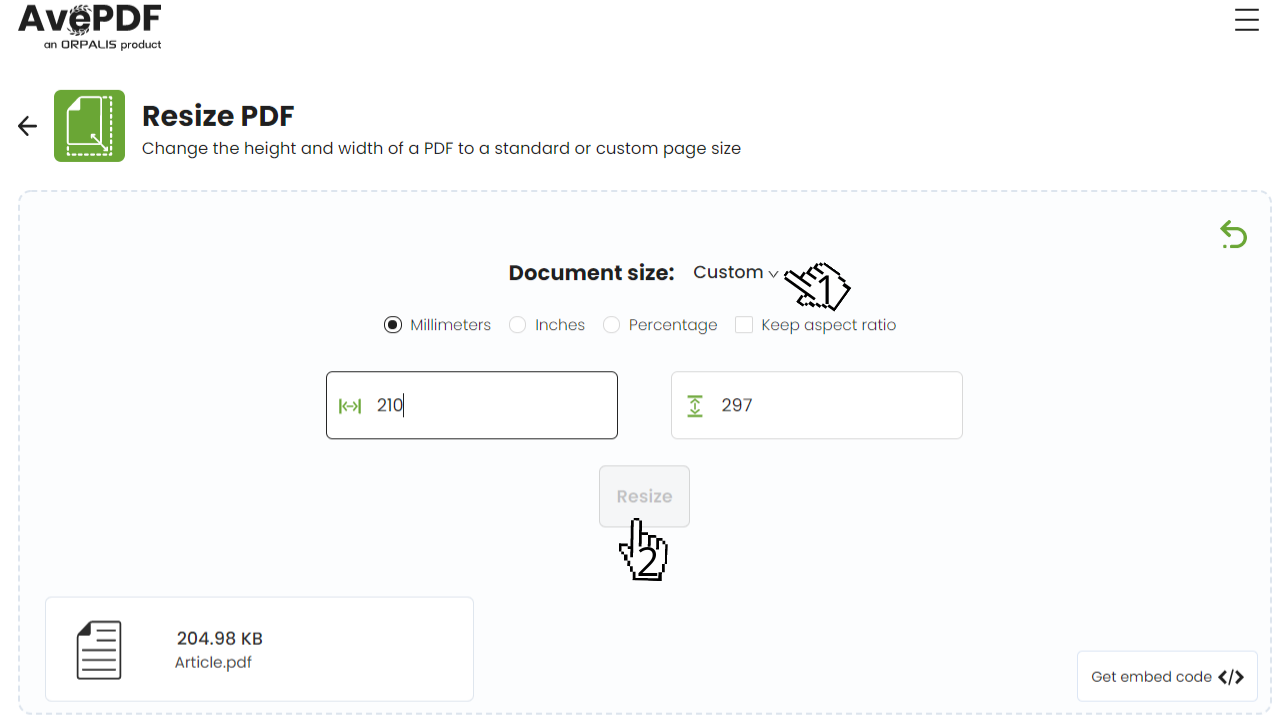 4. Download your resized file
You can download your resized file to your computer or save it directly to your favorite cloud storage service.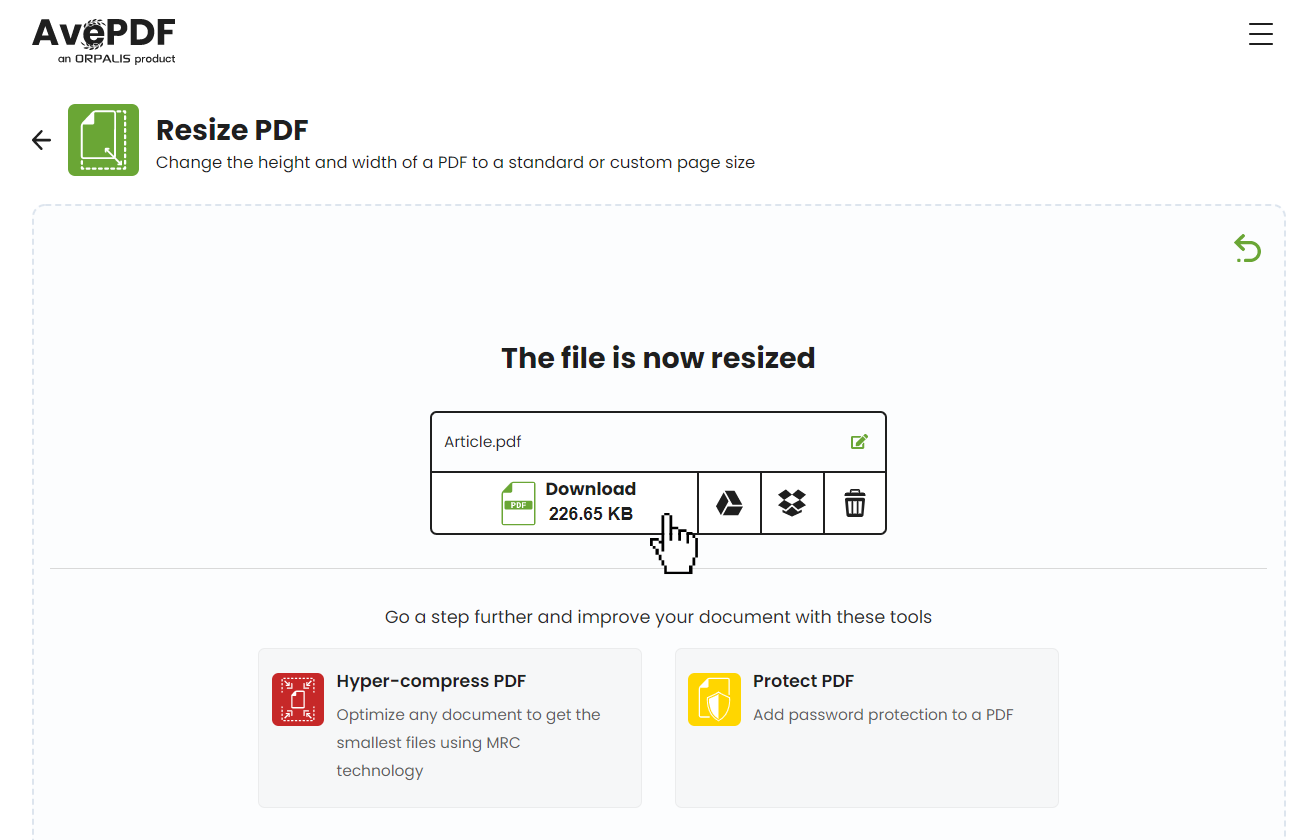 All documents processed with AvePDF are automatically deleted from our servers after 30 minutes.
If you prefer, you can delete the file manually right after processing by clicking the bin icon.
You can even go a step further and improve your document with some of our other tools, such as Hyper-compress PDF and  Protect PDF.
Tip: You don't need to upload your resized file again if you choose one of the recommended tools!