When you work on a project, you often need to use various tools such as Powerpoint, Word, Photoshop, or others, that create different file formats. Combining all your electronic documents into a single PDF file makes them easier to view and share, especially if they will be displayed on different devices.
Do you remember the last time when you used the classroom/meeting room computer for your presentation? More often than not, you had to look for your files in different folders, your slides ended up with a different layout, or you couldn't open a vector image. 
There are so many different file formats that it's often difficult to have all the right tools on all devices.  PDF is designed to look the same on all devices at all times. With AvePDF, you can combine 100+ document and image file formats to PDF in a single click. 
What is in a file format?
Every day, you most probably deal with dozens of different file formats such as DOCX, SVG, PDF, PSD… But why do we have so many different formats? 
A file format describes how the information is encoded for storage in a file. It also tells through its file extension, e.g., ".doc," ".pdf"… which software is the best to read it. Sometimes multiple software can read the same file format. Your computer will often recommend the best one to use, but it is not always the case. Furthermore, some features are not entirely supported by programs we think are similar. For example, a .doc file opened with Microsoft Word and OpenOffice does not always behave the same. When people need to collaborate on the same documents with two programs involved, layout differences can cause endless headaches. 
What is the difference between file format and file extension?
Both expressions are commonly used about each other. However, the file extension is only a combination of characters that appears after the dot in the name of the document. For example, PDF is a file format whose extension is .pdf. 
Be careful; renaming the file name to another extension doesn't change the file format. For example, a PDF called presentation1.pdf will not be converted to a PNG if it is renamed presentation1.png. The file format will still be the same. If you want to convert a file to a PDF, you can use for free our tool Convert to PDF.
Proprietary or open format?
The world of formats is very complex, and almost every format has its licensing rules.
You often hear about two types of formats: proprietary, and open formats.
Proprietary formats are created by software subject to commercial licensing. For example, you will need a Microsoft Office license to create and view a DOC file. A PSD file (Photoshop Document) can only be opened by Photoshop and other Adobe products. The source code of proprietary formats belongs to the company that is responsible for its evolution and the use of the format is restricted. 
In opposition, open formats can be used and implemented by anyone. However, it doesn't mean that you can do anything you want with them, as open formats can still be copyrighted. The source code of open formats can be standardized or not (and to access most standards, you will need to pay a fee). In conclusion, "open" doesn't necessarily mean "free" or without constraints. 
The PDF file format, contrary to a popular belief, doesn't belong to Adobe anymore. And since 2008 it has been standardized (ISO 32000), it is an open standard. 
On a side note, the case of Microsoft Office formats is unique. The older DOC, XLS, and PPT formats are proprietary, but Microsoft made their specifications available to the public in 2006 with the Microsoft Open Specification Promise. The newer DOCX, XLSX, and PPTX are based on the Office Open XML format, which is an open standard, but their specifications are complex and sometimes difficult to implement.
With the AvePDF Combine widget, you can merge 100+ formats to PDF!
Difference between the Merge and Combine widgets
You may have noticed that AvePDF also includes a Merge widget, in addition to the combine tool (we also have an article about how to merge PDF files). 
What is the difference between the two?
The Merge PDF widget merges PDFs and ZIP files only, while you can combine more than 100 formats (including Microsoft Office files and images) to PDF with the Combine widget. 
We developed both options to show developers that we provide APIs for different workflows. If you need toolkits to merge or combine documents, check our SDKs for Desktop, Web, and Cloud development!
Let's now move to our tutorial. You can either watch the video or read the transcript below. 
To start, visit our homepage or click here to land directly on the Combine to PDF tool.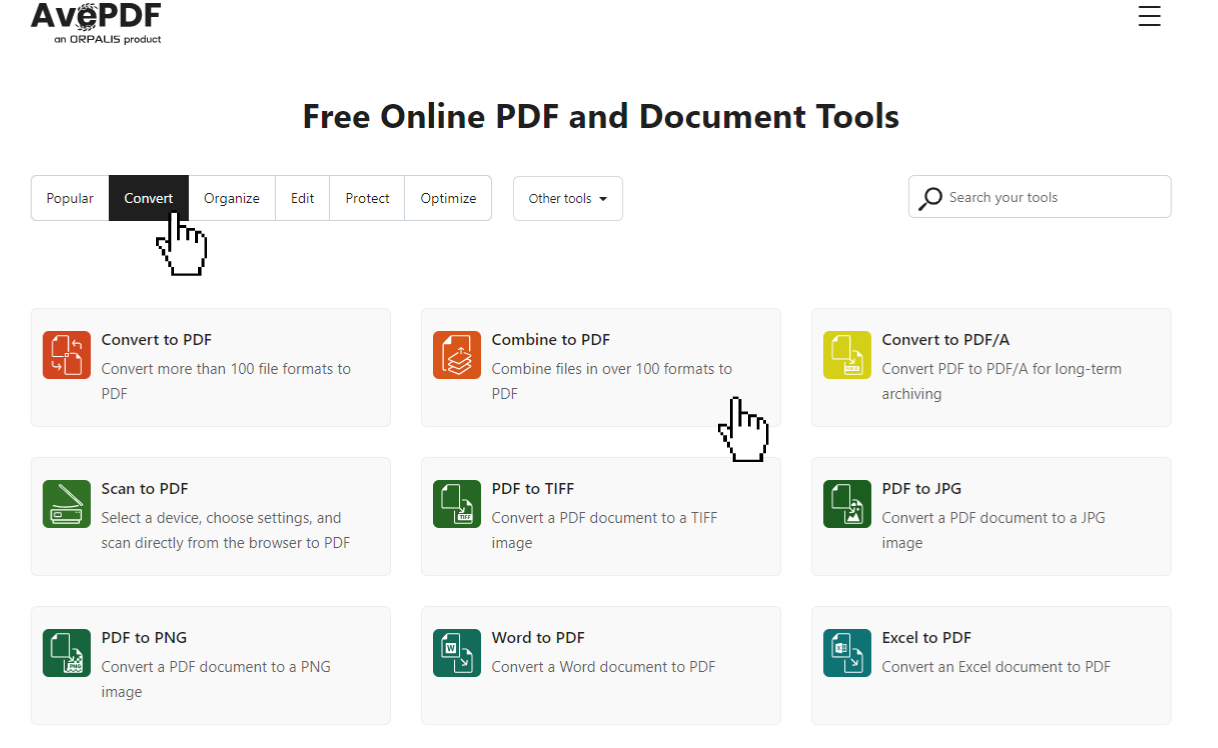 You can also do it directly by using the widget embedded below.
If you want to learn how to implement our widgets from more than 50 tools available on your website, check this article!
Drag and drop your files or upload them from your device or your cloud storage service.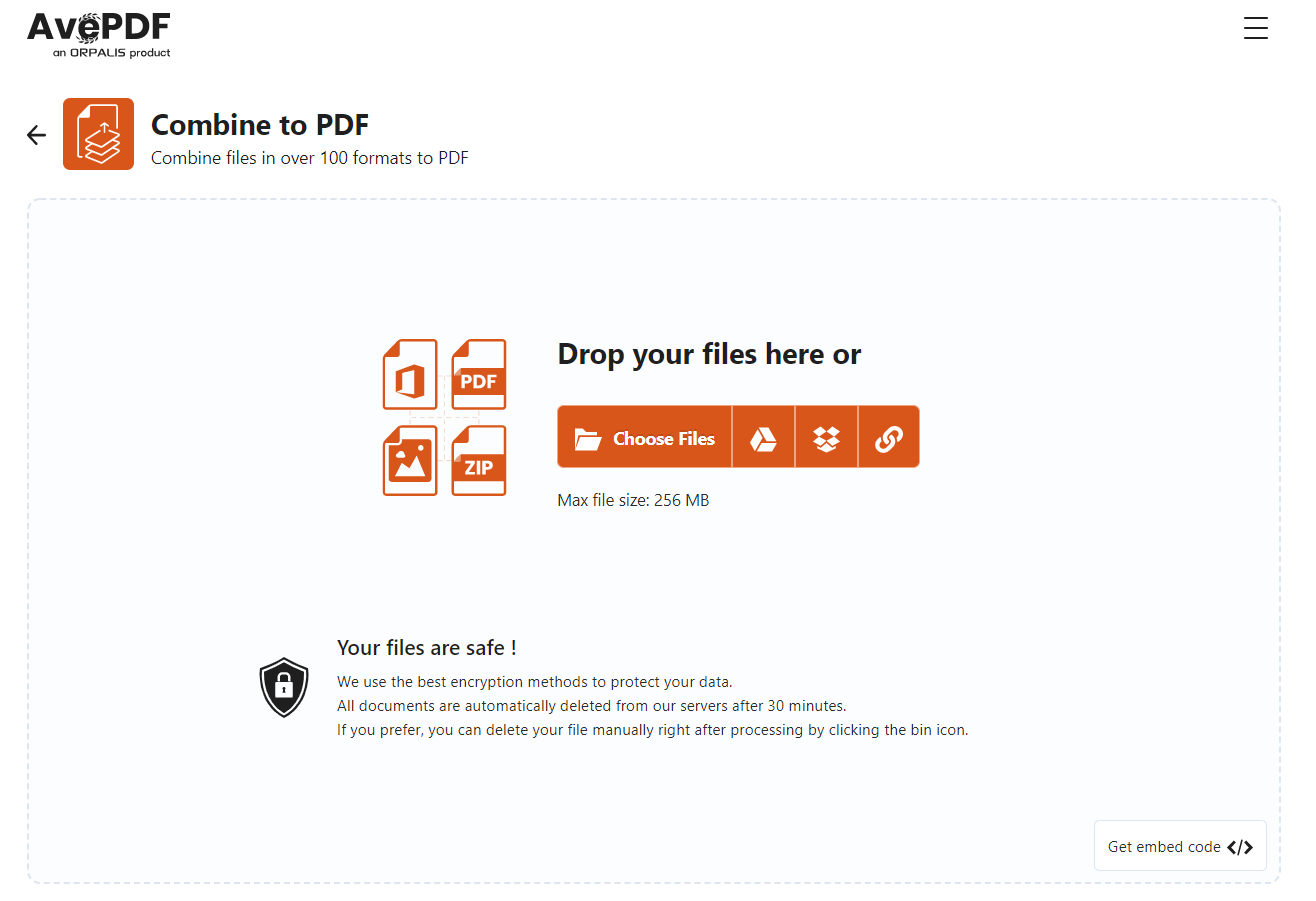 3. Choose the order of the files
You forgot to upload some documents? Don't worry; you can add more files by clicking the "Upload more files" button. Then check the order of your files. You can rearrange them as you wish.
Click the "Combine" button to process your documents.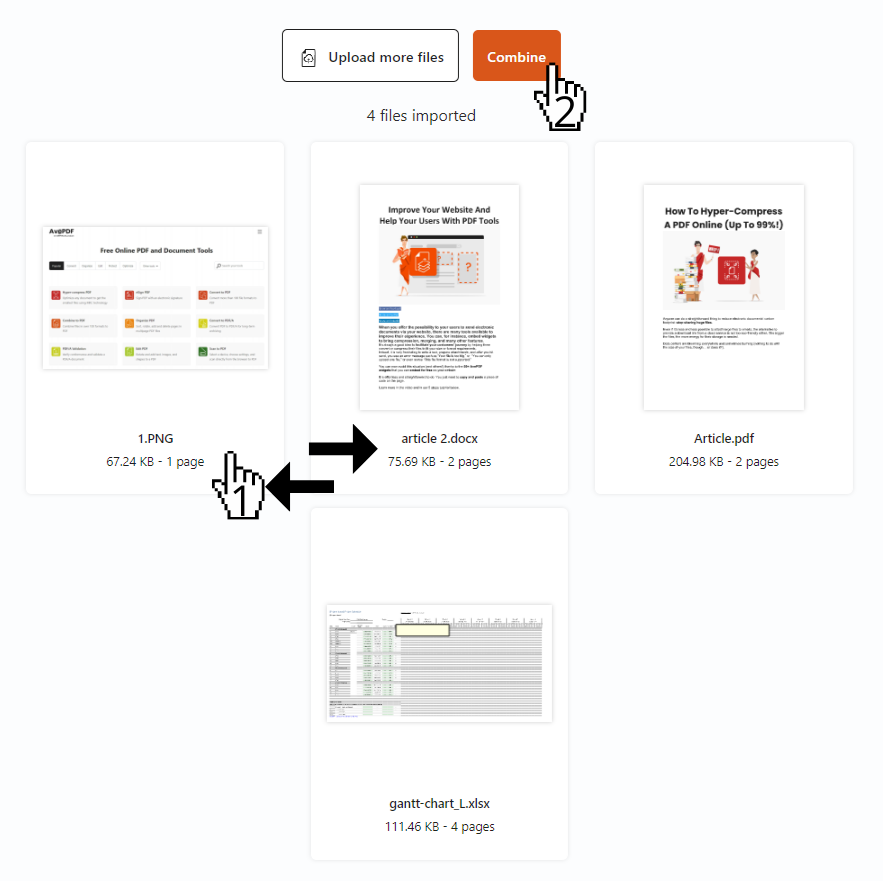 4. Download your combined file
You can now download your combined file to your computer or save it directly to your favorite cloud storage service.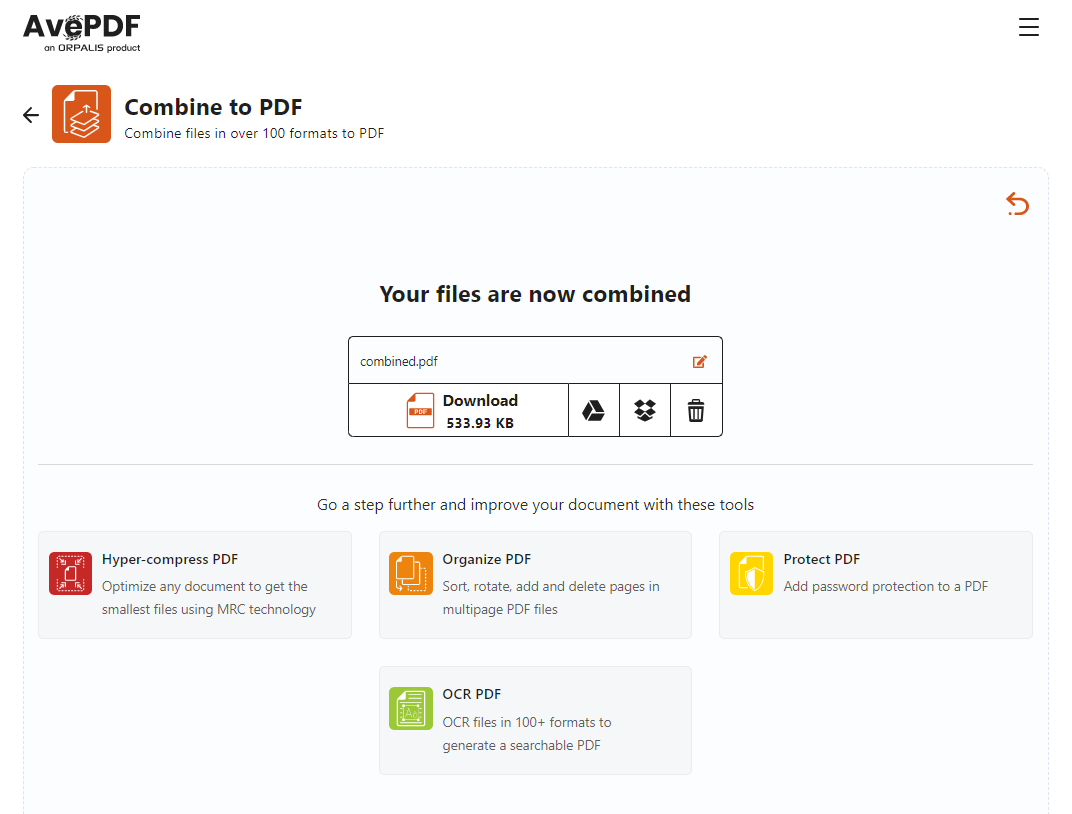 All documents processed with AvePDF are automatically deleted from our servers after 30 minutes. If you prefer, you can delete the file manually right after processing by clicking the bin icon.
You can even go a step further and improve your document with some of our other tools such as Hyper-compress PDF, Organize PDF, OCR PDF, Protect PDF.
Tip: You don't even need to upload your combined file again if you choose one of our recommended tools!